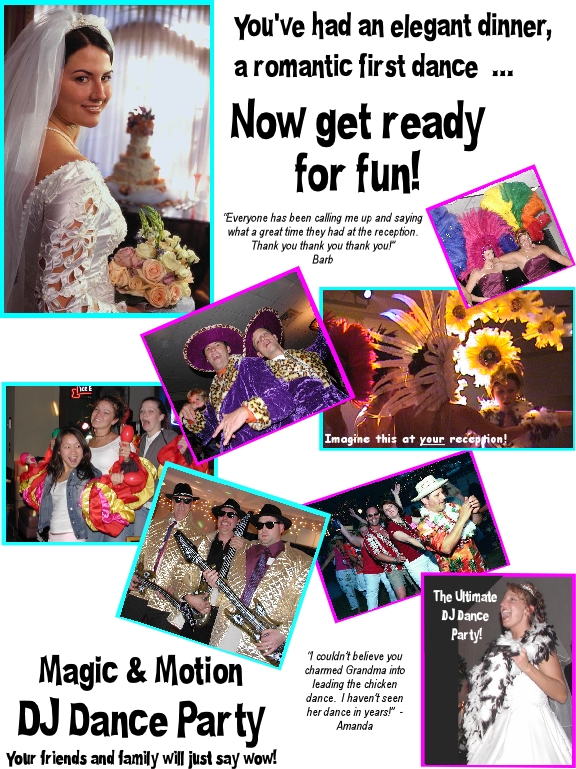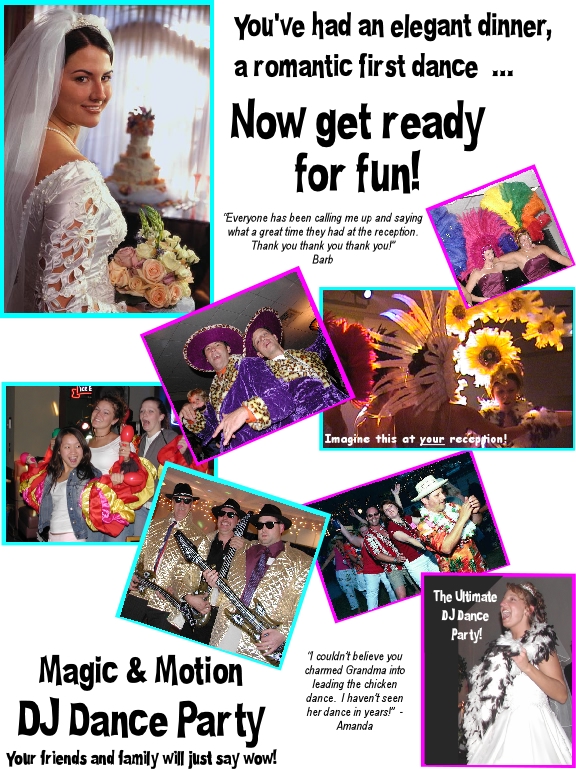 You've had an elegant reception dinner, a romantic first dance now ... get ready for fun! with the Magic & Motion DJ Dance Party your family and friends will just say wow!


How do we provide such an exciting and memorable reception?
We use professional DJ/Entertainers who customize the songs, dances and events to your group
.
Kevin is a full-time, professional entertainer, who has performed on cruise ships, casinos and in fabulous couples resorts like Sandals, Swept Away and Grand Lido.  He will use all his experience to make your reception a big success!
Tony is one of our most requested Disc Jockeys. A veteran of hundreds of weddings and corporate events, Tony uses his experience as a DJ, dancer, and singer to help you create a wedding reception that is simply spectacular!
Deluxe Dance Party          6hrs
Even if you're on a budget, you can get reception entertainment that is far superior to the standard DJ offering.   You  get the  great music, costumes, special events and attention to detail that makes our dance parties so popular.  You also can pick any three of our famous costume events from the Premier party package.  Plus our planning sheets let you be in control. You pick the events and music styles you prefer.  Working together, we guarantee you'll have a reception that is unforgettable!
Premier Party!          6hrs
Our Top seller! You get an incredible reception that gets everyone involved! We work with you to create the reception you've dreamed of. First, we plan the traditional events like Grand March Bride and Groom, Parents and wedding party dances. Then you choose which of the normal interactive dances you'd like (YMCA, Chicken Dance Electric slide etc.) Then the fun begins! You get to pick any or all of our famous costume events like:
 

The Moulin Rouge Dancers - Blues Brothers - Mambo Maniacs - Jamaican me Crazy - Redneck Women - Masters of Funk - Show Daddys - Ride a Cowboy - Video Star & even our custom 6ft Hula Hoop Challenge!

Over $5000 of fantastic new costumes this year!!




You also get: Planning session, Free Extras: (Fog machine, Bubbles, Wireless mics etc.) Plus something that no other company does ...




Free Strolling Entertainment during the social hour (Call for details!)
Magic & Motion Theme Party     6hrs
Are you planning a theme reception? With our connections, we can provide talented dancers, performers and theme entertainment. We have Hula & Fire dancers for that tropical theme, Mariachis and Flamenco dancers for Mexican. Even a disco instructor who was on the Dance Fever TV show! Call us for details on how to take your reception to the next level!
Inviting Children? ... turn Little Devils into Little Angels!
Many times, children get bored before the dance starts.  They run around the reception hall skidding and bumping into things.  We provide a FREE mini-magic show for the kids that keeps them busy and out of your hair. This is something Halls of Entertainment has become known for and it always seems to be a highlight of the evening!