The Magic & Motion DJ Dance Party
"The dance floor has been full all night. How do you do it?"
Dance All Night!
Perfect addition to your casino night,
corporate banquet or celebration!
Not your ordinary DJ dance, our DJs are also dance
instructors and professional performers with background
in song, dance, and theater.
They will get your crowd moving and having a ball!
"Normally our holiday party peters out at about 10:30pm. Here it is, 1am,
and they don't want to leave" – Deluxe Check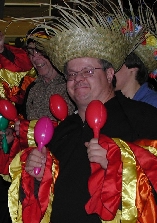 Props, Costumes and Party Dances
We provide hats, streamers, sun glasses and lots of other props. Then we get a whole group of people involved in the fun. There are specialty dances, kick lines, free dance lessons, noisemakers, YMCA song with costumes, and even a Moulin Rouge number with headpieces.
"Four awesome shows in 4 years. We can't wait to work with you again next year!" – SuperValu
Hundreds of your favorite songs
Rock, Disco, 50's, Club Hits, Popular, Country, 80's and even Swing and Polka! Everyone will be singing, dancing, and having fun with the music they know and love.
State of the Art Sound!
The StageMaster sound and light system, top of the line professional components. Much higher quality than the typical DJ system. It produces brilliantly clear sound with no distortion or annoying buzz and comes with a wide array of lighting effects. Special effects, Fog, Karaoke and Laser effects are also options.
Theme Shows Available too!