Here are some of our festival & fair offerings.  Please call us for details
on how we tailor the show for your fair and the special promotions we use
to gather even larger crowds!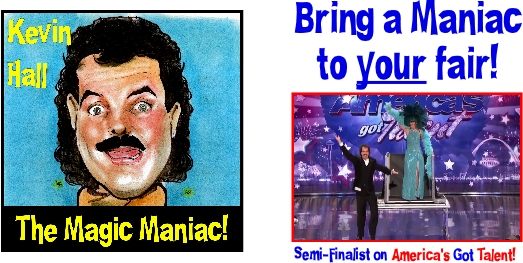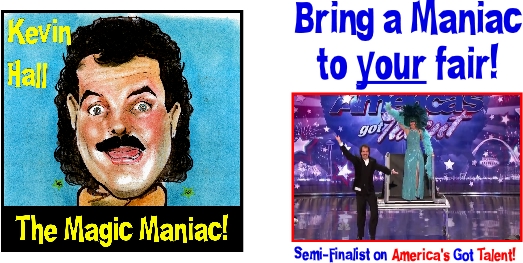 You've seen his shows on Carnival Cruises, Las Vegas and at Grand Lido resorts.
Enjoy the outrageous comedy and magic of the "Magic Maniac"
The only show where the audience become stars as they participate in
unbelievable magical illusions.  The combination of music, comedy and Las Vegas style
illusions makes this show one you won't soon forget!



You Get 4 Different Shows!
(Each show promotes the next show so you get constantly increasing crowds)
Mingle Magic Show - Strolling magic around the grounds really draws the crowds!
Kids Mania Show - Parents take dozens of photos of their magical kids on stage
Extreme Magic Show - Choppers, Knives, Chair of Death & more - Teens love it!
Magic Maniac Show - His Vegas show, comedy, danger and big illusion - Spectacular!!