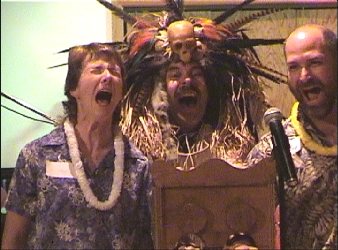 "Everyone always cracks up at the picture of my husband in the Hula skirt"
Cannibal Kevin's
Beach Party
All the fun of the beach
…without getting wet!
Hosted by Cannibal Kevin
and features:
Props, Costumes, Noisemakers,
Group Dances, Sing-a-longs, Cannibal Drummers,
Dance Instruction, Hula Contests, Jokes, Sand, and
a whole lot more!
The Beach Party is a big hit everywhere!
This high energy show will keep your guests going all night long. The dancers are fabulous and everyone will be talking about the Men's hula contest for a long time to come!
Perfect for your Event!
Company Banquets, Employee Appreciation Nights,
Fundraisers, Tropical Theme Nights, Top Sales Award Events,
Anywhere people are ready to party! Highly interactive Gilligan's Island contest and group song, Cannibal Joke Contest, Witch Doctor Sing-along, Fire Dancing or Samoan Knife Dancing
special guest appearance by Big Mama Kona and even Cannibal Magic including the Double Hand Chopper and Chamber of Death!
Experience Counts! We have been producing tropical, comedy, magical, and theme revues
for over 20 years with clients like AT&T, Carnival Cruises, Mall of America, Pan-Am,
Super Clubs Resorts, and hundreds of others. Let us customize a show for your event!!
Fun for little cannibals too!
"The VP of Sales made a great Cannibal Drummer. We didn't even know he had rhythm!"