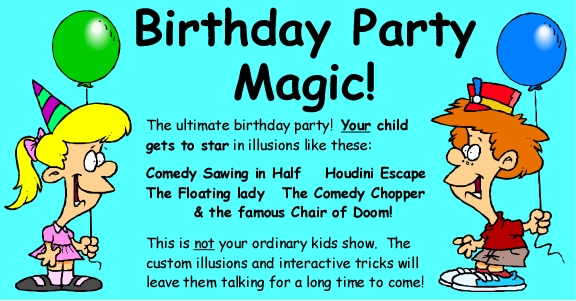 We also are the only company in town that offers the appearing Mom or Dad trick.
Imagine your child's surprise when you appear out of nowhere right in your own living room!
Call us with your ideas and we will come up with a way to do it!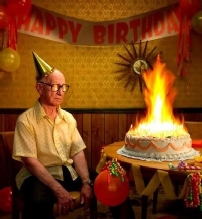 No ones too old for a magical Birthday Party!
We have done 30th, 40th, on up to 80th parties.
We have done, 70's disco, 80's Punk, Country and 50's parties.
We even made a Lexus magically appear for a 50th Birthday party! (It was the birthday girl's gift)
Call us with your ideas and we will find a way to make them happen. Be sure and ask us about our special "Over the Hill" tests we have!
Note from the Magic Maniac: I keep pretty busy with corporate events and festivals so if you want me personally, the best time is daytime parties. I also have several other great family magicians I can recommend if I can't do your show myself.
How is my personal show different from others? We call it the The ultimate birthday party because:
Your child and friends gets to star in illusions like these:
Comedy Sawing in Half – The Houdini Escape
The Floating Lady – The Comedy Chopper
& the famous Chair of Doom!
These are all illusions custom designed for kids. This is not your ordinary kids show. Everyone gets involved and the interactive tricks will leave them talking for a long time to come!
Call me and I can explain all the goodies you get in one of our shows.